2017 | EXHIBITIONS + EVENTS
OpenHandSlaps presents:

THE AWAKENING

A sticker exhibition at

BSIDE Gallery
Opening night: Wednesday 25th January 2017, 6-10pm
Exhibition dates: Thursday 26th Jan 12-4pm Friday/Saturday 27th/28th 11am-5pm
Get down to BSIDE Gallery from 6pm on Invasion Day Eve to check out the wildest sticker exhibition Melburn has seen in years!
Big ups to the legends at Young Henry's for serving up some lager and cider for the evening!
LADIES FIRST!

An all-girl graffiti/characters/lettering exhibition
Opening night: Thursday 23rd February 2017, 6-9pm
Exhibition Dates: Thursday 23rd-Sunday March 5th 2017
Featuring vibrant artwork by fly girls such as Indie184, Poise, Dirty Bandits, Paper Jam Press, Toofly, Sear, Toots McGee, Muriel Ann Ricafrente, and more!
UHF (Ultra High Frequency)

Live exhibition by Crisis
UHF is a concept show by Melbourne based artist CRISIS.
Each day in the lead up to the exhibition's closing night an artwork will be produced from scratch under the scrutiny and influence of anyone or thing that happens to be present with each piece being a direct reflection of the moment it was created.

From the 13th to the 18th of March, CRISIS will be working from BSIDE Gallery as a live exhibit himself.

Join us at BSIDE on the 18th of March from 6pm to see the final piece hung and help celebrate the end of the project!
LOUSY SHOW

Lousy Ink Launch + Exhibition
Join us for a lousy night of art and fun - Friday 31st March from 6-9pm!
Ruskidd and Mike Eleven have gathered some of our favourite, local artists to test-drive their 100% recycled artist ink in this knockout group exhibition. Grab a Young Henrys beer, start some banter and come see the versatility and potential of your new favourite ink brand. An artist-run brand for full-time artists and artists-to-be.

Featuring works from:
Aaron Grech - Adi - Anime - Ben Lopez - Brigit Maher - Callum Preston - Camille Thomas - Chehehe - Christian Vine - Craig Cole - Creature Creature - Dem189 - Frosk - Goodie - Grace Audrey - Hancock - Heesco - James James - James Wilson - Jo Harrison - Junky Projects - Kenz - Kim Kim Kim - Knock - Lizzi Morris - M.P Fikaris - Maha - Marcos Diaz - Mike Eleven - Mitch Walder - Muriel Ann Ricafrente - Nick Ives - Oliver PD - OX KING - Presto - Rashe - Resio - Rion - Ruskidd - Salad - Sugar - Swerfk - Tanea - Tom Civil + more to come!
ABSOLUTE MAYHEM
Mitch Walder
Absolute Mayhem is the third solo exhibition by Melbourne based artist Mitch Walder.
Opening at BSIDE Gallery on Friday May 19th 2017, the show revolves around an intense centrepiece that consists of 29 individual artworks and stands at 3 metres. The works are displayed side by side creating an overall scene of chaos that structures around a central - unarticulated by outline - area that assumes a path to a white unknown. Thematic tendencies in palette & layout bring this painterly mess into a somewhat ordered chaos.
Absolute Mayhem runs from 19-28 May, join us on Friday the 19th from 6-9pm for opening night drinks, supported by Young Henrys and 42 Below.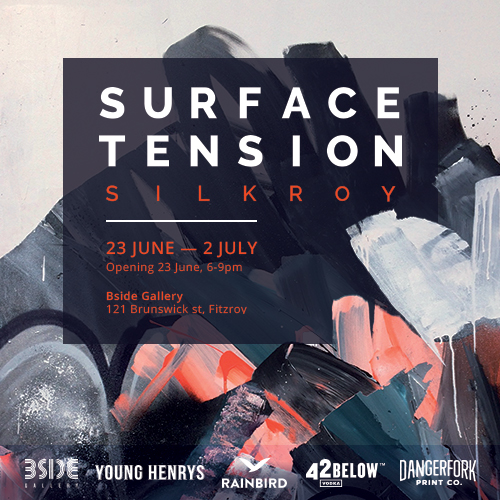 Celebrating over a decade of creativity, Melbourne artist Silk Roy brings his very first solo show Surface Tension, to BSIDE Gallery in Fitzroy.

Inspired by Melbourne's historical heritage, Silk Roy equally embraces our modern, creative metropolis by imbuing temporary, surficial compositions with his foundational graffiti ethos. Having in recent years successfully transitioned his spray painted aesthetic into the emotic realm of abstract expressionism, Silk Roy's obsession with style has, over time, evolved his work to laconically embrace the global Graffuturism movement, whilst still retaining its own individualistic flourish.

Join Silk Roy at the opening of Surface Tension at BSIDE Gallery, 121 Brunswick St, Fitzroy. The show opens Friday 23rd June from 6pm to 9pm, and runs until 2nd July 2017.
After 4+ years, the second ever Will Coles solo exhibition comes to Melbourne! UK born sculptor Will Coles' long awaited follow up show to I Fucking ♥ Melbourne (March, 2013), Fuck Sydney will open this week at BSIDE Gallery, Fitzroy.

Fuck Sydney is his 'it's not me it's you' break-up letter to the city he called home for 20 years:
"What was true twenty years ago is just as true today: Sydney is where the money is, Melbourne is where the culture is. Sydney, where the average house will now put you back $1 Million, where they import foreign street art rather than invest in their own. Sydney, where the pubs & clubs close early, live music is a memory & the shops close at 5. Sydney? Go fuck yourself."

- Will Coles

Join us for the opening of Fuck Sydney on Friday 21st July from 6-9pm at BSIDE Gallery, 121 Brunswick St, Fitzroy. The exhibition opens Friday 21st July from 6-9pm, and runs until the 30th of July 2017.

For any sales enquiries or to arrange a private viewing of the available works, please contact Gallery Manager Ariana Leane - info@bsidegallery.com
BLOOMIN' BEAUTY
Group exhibition curated by
Esther Sandler
Bloomin' Beauty is a group exhibition showcasing illustration, textile and ceramic based works by thirteen up and coming artists and designers from around Australia.
Inspired by traditional methods of botanical illustration, the history of collecting and archiving plant matter and our unique Australian flora, Bloomin' Beauty is a celebration of floral iconography with each artist presenting a unique interpretation of the theme by using their medium of choice.
Featuring: Alca Jay, Ashley Ronning, Carolyn Hawkins, Edith Rewa, Esther Sandler, Holly Leonardson, Julie White, Lori Camarata, Megan McNeill, Min Pin, Paradise Structures, Stephanie Elicia and Tara Whalley. Curated by Esther Sandler.
Bloomin' Beauty runs from Wednesday 2nd August – Sunday 6th August 2017 at BSIDE Gallery in Fitzroy, Melbourne and is a satellite event for Craft Cubed. The gallery is open 11 – 5pm all days of the exhibition except for 12 - 4pm on Sunday.
Please join us at the gallery for drinks from 6-9pm Friday 4th August!
NIXI KILLICK POP-UP SHOP & LAUNCH NIGHT
See this mermaid babe's full collection IRL at BSIDE Gallery, 8th, 9th & 10th August 2017!
IN REAL LIFE !
POP UP STORE
COLLECTION LAUNCH
AND COLOURTRIBE CONNECTOR!

OPENING NIGHT : TUESDAY 8TH AUG 6-9PM
*PLZ wear your NXK threads or your fav colourtribe outfit ;)

STORE HOURS :
TUESDAY AUG 8TH OPENING NIGHT 6-9PM
WEDNESDAY AUG 9TH : 12 NOON - 7PM
THURSDAY AUD10TH : 12 NOON - 7PM
BSIDE GALLERY FITZROY MELBOURNE AUSTRALIA
Handstyler presents:
INTERNATIONAL HANDS
International Hands is a group exhibition curated by Handstyler focusing strictly on the graffiti handstyle. The show will be exhibited across two Australian cities, Melbourne & Sydney, and features works from 20 artists from around the world that have been noticed as pushing their handstyles in forward-thinking directions.

International Hands is a show to demonstrate to everybody – the public and the graffiti scene alike – that there truly is art in a tag. The pieces in the show have come from artists located around the world and as a result each brings a different style to the walls. A mixture of different methods and mediums are used, including spray paint, markers and stickers, which shows the diversity found in tagging.
Featuring works by:
Acro (USA) Apexer (USA) Badypnose (FRA) Buster (MEX) Canser (CZE) Ces (USA) Cozek (RUS) Ekser (USA) Feeceez (USA) Freak (AUS) Keep6 (CAN) Load42 (COL) Mach (AUS) Mayonaize (AUS) Nurse (CAN) Risote (FRA) Riteo (AUS) Sicoer (POL) Siege (AUS) Soem (USA) Sopehs (MEX) Soviet (USA) Xeme (HKG)
BSIDE Gallery will host the Melbourne show from 16th-20th August, join us for drinks on Friday 18th August from 6-9pm!
For any sales enquiries or to view the catalogue please contact Gallery Manager Ariana Leane - info@bsidegallery.com
Primary Arcade presents:
DISPOSABLE
Zero waste. It is an almost inconceivable concept in today's fast-paced and ultra convenient world. As artists, our works may not be entirely environmentally responsible, and thus, we would like to kick-start a conversation on the idea of disposal culture with the exhibition 'Disposable'. Pushing the boundaries of traditional illustrative, painting and typographic practices, Primary Arcade's group exhibition at BSIDE Gallery will explore the disposability of objects in everyday life and the effects of expendable culture on our society.

ARTISTS
Alan Jones, Alice Kaps, Aleksandra Susnica, Anica Costa, Anna Litwinowicz, Baaqiy Ghazali, Balazova Black, Callum Preston, Cassie Stevens, Chris Costa, DNART, Ella Heckendorf, Frances Cannon, Giulia May, Harley and Händen, Jack Summers, Jake Roden, James Hornsby, John Kaye, Jordan Lucky, Kitt Bennett, Leona Fietz, Leon Tan, Lucy Lucy, Madeline Joy, Madbutt, Melissa Grisancich, Natalie Rachel, Nicole Black, Sophia Mary Mac, Stephanie Nagy, Stephanie Mente, Stinkhorns, Taylah Moore, Te'Claire

Curated by Monica Balaz and Stephanie Rose
Join us for the opening night on Friday 8th September from 6-9pm, sponsored by Young Henrys and 42 Below!
For any sales enquiries or to view the catalogue please contact Gallery Manager Ariana Leane - info@bsidegallery.com
SHUT THE FRONT GATE
Group exhibition
Art and beer, the best way to get two birds stoned. Come and feast your eyes on the art of:
Pigeonboy
Mikel Rutherford
Matt Dwyer
Nadine Keegan
Alex Hooves
Brekk Kardawine
Join us at BSIDE Gallery from 6pm on Friday 15th September, sponsored by Young Henrys and 42 Below Vodka!
"BARE is an intimate collection of art & words on the naked body, created during my residency at a naturist colony in Canada this year.

This event will be a one night only launch and exhibition, with art on the walls, interesting conversations and (obviously) books available if you'd like to grab a copy.

It has also been kindly supported by Mountain Goat Beer, so we'll have plenty of yummy beer to share!" - Júlia Both
For any sales enquiries or to view the catalogue please contact Gallery Manager Ariana Leane - info@bsidegallery.com
Divergence is a solo exhibition exploring the human condition by Melbourne based, New Zealand artist, Ben Stoner. Through narrative painting, emotional tension between worlds above and below water are unearthed.
Divergence portrays and negotiates human vulnerabilities and hedonistic desires by reimagining natural worlds, accentuated by patterns and simple forms. Although informed from a reflection on personal experiences, the narrative is untethered, allowing the viewer to interpret each painting against their own realities.

"Through the combination of representational and stylised form, I aim to distort ones perception to create a new narrative. Reimagining visions of the natural world as patterns and simple forms. Creating visual movement, and allowing the viewer to
make their own associations. The narrative is untethered, informed by reflection on past experiences and a desire to create new visual connections." - Ben Stoner

Join us for the opening of Divergence at BSIDE Gallery from 6-9pm Friday 6th October, proudly supported by Young Henrys and Bacardi Carta Fuego!

Divergence will run from Wednesday 4th October - Sunday 15th October 2017
MESOZOIC - Age of Dinosaurs
Cameron Brideoake
Join us for the opening of Mesozoic - Age of Dinosaurs, the latest solo exhibition by Cameron Brideoake, from 6-9pm Friday 27th October at BSIDE Gallery - proudly sponsored by Gage Roads Brewing Co!
"Dinosaurs - Ever advancing science now brings us an incredibly detailed picture of them and the time they lived in, the Mesozoic Era, which spans 252-66 million years ago. This body of work is a journey back in time to Earth's distant past to understand more about these incredible creatures, but also to focus on recent developments in Palaeontology, as what we know about dinosaurs has drastically changed. Cameron's new body of work includes paintings, drawings, sculptures and writing inspired by the study of natural history and social issues surrounding science in education."
Mesozoic - Age of Dinosaurs will run from Wednesday 25th - Sunday 29th of October.
In the immortal words of Donald Rumsfeld:
"...as we know, there are known knowns; there are things we know we know. We also know there are known unknowns; that is to say we know there are some things we do not know. But there are also unknown unknowns – the ones we don't know we don't know."
Origin is a body of work exploring the known and the unknown, utilising spontaneous abstract mark-making and realistic representation to analyse the building blocks of creativity, and the underlying structures of cultural influence.
What are the influential and subconscious aspects of originality? Are animals our slaves or part of our greater symbiotic selves? Can we find beauty in ugliness? How can we be considered individuals if our minds are a product of thousands of years of physical and cultural evolution? Oln-y aims to explore these types of contradictions with an open mind and see the job of an artist as a neo-shaman, attempting to communicate the unknown unknowns.
Join us for the opening of Oln-y's debut solo exhibition Origin this Friday 10th November from 6-9pm at BSIDE Gallery, 121 Brunswick St, Fitzroy. Proudly sponsored by Gage Roads Brewing Co!
The exhibition will run from the 8th - 19th November 2017.
For any sales enquiries please contact Gallery Manager Ariana Leane - info@bsidegallery.com
AWKWARD FOOD
Elizaveta Maltseva
Awkward Food is a humorous and semi-autobiographical exploration of Melbourne-based artist Elizaveta Maltseva's cultural identity and heritage through food and dining. On the surface the exhibition comically toys with ideas of growing up as a weird ethnic kid – in this case, a Russian one. On a deeper level, Awkward Food talks about sharing meals as a gateway to greater cultural understanding and human connections.

Elizaveta presents complex and awkward narratives through whimsical drawings and grungy monoprints. While the photographs are at times nostalgic in aesthetic, the drawn and textual elements are more cathartic in nature.

Elizaveta's personal Russian heritage is incidental, as the scenarios presented are relatable to all new Australians and those who have experienced life as a cultural minority. Essentially, she aims to capture the idea that sharing culinary experience and meals is a fundamental part of cultural diplomacy and greater multicultural understanding.

Join us for the opening of Awkward Food from 6-9pm on Friday 24th November at BSIDE Gallery, 121 Brunswick St, Fitzroy. Proudly supported by Young Henrys

Awkward Food will run from Wednesday 22nd November - Sunday 3rd December 2017
JUNGLE BOOGIE
Curated by Ariana Leane
Let's kick off summer and end the year on a high note - featuring over 50 local and international artists, DJs (Kings Only Crew, Tofu, Faren) booze (thanks to the absolute legends at Young Henrys & 42 Below!!) and a whole lot of dancing!

The exhibition will continue until Sunday 10th December, for all enquiries please contact Gallery Manager Ariana Leane info@bsidegallery.com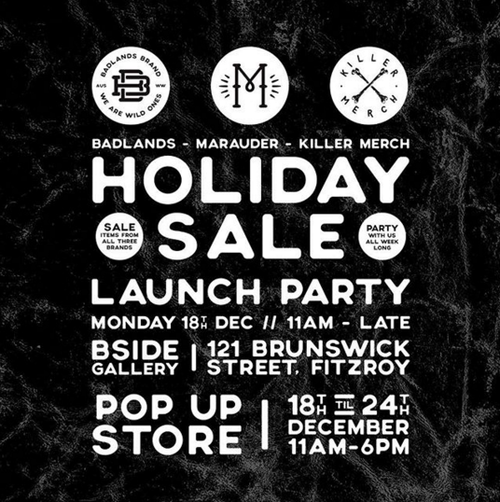 BADLANDS X MARAUDER X KILLER MERCH POP-UP!
Party with us all week long!

Australian Clothing labels Badlands Brand Marauder Clothing and Killer Merch are combining forces to host one fucking epic, week long pop up store/party at BSIDE Gallery, Fitzroy, Melbourne.

With new garments and sales items from all three brands, you won't be able to leave empty handed. Perfect timing for christmas gifts, stocking stuffer and something to treat yo self with.

Kicking off the week with our launch party on Monday the 18th and continuing the party all week long to ensure you've got time to come by, say skarnon and pick up something rad.

Stay Rad!