2016 | EXHIBITIONS + EVENTS
BSIDE BEGINS

Group Show and Inaugural Opening
Opens: 15th July 2016
BSIDE Gallery is set to open on the 15th of July 2016 with an electrifying group show celebrating the talent and diversity within Fitzroy's creative scenes. The show features an incredible lineup of both emerging and established Australian artists including Ben Frost, Abyss 607, Swerfk, Christopher Hancock, Frosk, Mike Eleven, Gigi, Goodie, Caper, Tim Coleman, Kenz and Zamara Robison.
UNDERCURRENT

Group exhibition curated by Heesco
Opens: 16th September 2016
Undercurrent is a group exhibition that highlights artists whose paintings reach beyond the general label of "street art" and challenge existing paradigms in today's urban art scene. It's a celebration of the highly considered and evolved studio practices. Our aim is to create a new and progressive platform for constructive conversations between the artists and the audience regarding this ever-evolving art form.
Opens: Friday 7th October 6-9pm
This series documents an artist's desire to uncover his personal expression of manhood. Navigating through social expectations of masculinity and his own turbulent past, Chuck goes on a visual journey exploring myths, masculine archetypes and various practices of introspection. In this work he seeks deeper self awareness, conducting an initiation that our culture did not provide.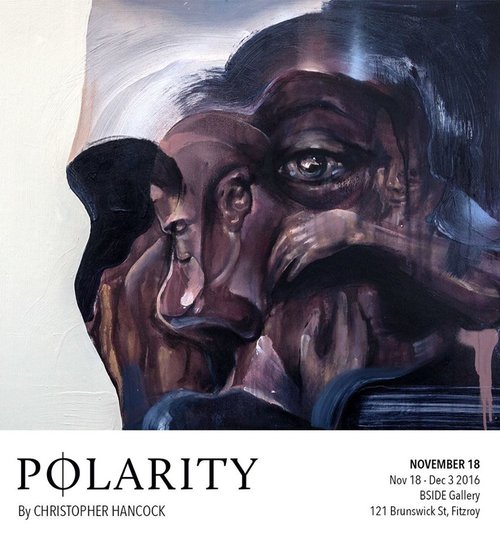 POLARITY

Christopher Hancock
Exhibition Dates: Saturday 19th November - Saturday 5th December
Christopher Hancock's works present the layerings of an honest and philosophical soul. In a market oversaturated with technicolour pleasantries, Hancock's works choose to dig a little deeper into the human psyche; to discover and arouse the real emotions that lay embedded in the dark hollows of our minds.
JOY

A Christmas Group Show
Opening night: 9th December 2016, 6-9pm
Exhibition Dates: Saturday 10th December - Saturday 17th December
It's BSIDE's first Christmas and we're celebrating by bringing you our biggest, most joyful group show yet!
With a blockbuster lineup of artists, this will be one Christmas show not to miss.