2019 | EXHIBITIONS + EVENTS
BSIDE GALLERY'S
3rd BIRTHDAY
GROUP EXHIBITION
My oh my, how time does fly! A massive thank you to all of the artists, collectors, supporters, friends and family who have helped shape BSIDE Gallery over the past 3 years - it takes a village you know ♥

Join us in celebration of our rad creative community and have a toast to BSIDE Gallery's 3rd orbit with over 50 local and international artists exhibiting works in EAT. SLEEP. PAINT. REPEAT. curated by the Gallery Manager Ariana Leane, proudly supported by Young Henrys, Haymes Paint and Montana Cans Australia!
PAST EXHIBITIONS + EVENTS 2019
TUNE IN TOON OUT
EVIL KEANEVIL X CAPER
Kicking off BSIDE Gallery's 2019 program we have our studio resident and homie Evil Keanevil joining forces with Caper for a collaborative exhibition filled with colour and nostalgia.

Take a trip down memory lane and see iconic cartoon characters recreated in the contemporary styles that both artists have honed over the years, from acrylic paintings and stencils, to intricate woodcuts.

Join us for the opening of Tune In Toon Out from 6-9pm this Friday 18th January, proudly supported by Young Henrys!

The exhibition runs from Tuesday 15th - Sunday 20th January 2019, for all enquiries please contact the Gallery Manager Ariana - info@bsidegallery.com

Exhibition hours:

Tuesday 11am - 5pm
Wednesday 11am - 5pm
Thursday 11am - 5pm
Friday 11am - 9pm
Saturday 11am - 5pm
Sunday 12pm - 4pm

Caper

Caper has been an active street artist for over 12 years, creating illustrations and paintings that parody mass media and popular culture. His use of multi-layered imagery in his works at times appear idiosyncratic and quirky, whilst acting as typical by-products of American superabundance and marketing.
Caper's works are saturated with mental inertia, cliches and bad jokes, and by their nature question the coerciveness of the superficial.

Evil Keanevil

Evil Keanevil's work is a dynamic and bold exploration of entropy and deconstruction of reality. Pop culture icons, as well as original characters are deconstructed to reveal their core components, usually by liquefying or melting the subject.
Questions and themes have risen through the meltingly matter, bubbling through the muck and surfacing in the paintings themselves - which components can be stripped away, and by what measure before the subject becomes unrecognisable? When the subject is melted down, is it their perception of reality being manipulated, or the viewer's?
WHORE'HEY PRESENTS:
CANDY SHOP OF HORRORS
"Appropriation comes natural to me, my awareness of conventional and pop art reflects into my life creating a space for appropriation and the art of copying. The underlying aspect of "I am not unique within my individuality" John Bauldessari (https://youtu.be/eU7V4GyEuXA) being a major influence, assisting with my structure of non-ground breaking art. My delivery and process of creation is sporadic and fuelled by my mental illness and traumatic past. Evident in my works which you will read soon. I am reaching for the title of "Mistress of Appropriation"

My maladaptive personality and artwork conflict together creating a harmonious environment for my expression.

Topic of works: sex, sex work, strippers, coffee, drugs/candy, alcohol, sleep, yoga, vegan, divorce/prison, pregnancy, abortion, rape, borderline personality disorder, money, debt, suicide, hip hop."
- Whore'Hey

Join us for the opening of 'Candy Shop of Horrors' from 6pm on Friday 15th February at BSIDE Gallery, Level 1 121 Brunswick St Fitzroy.

The exhibition runs from Thursday 14th - Sunday 17th February 2019.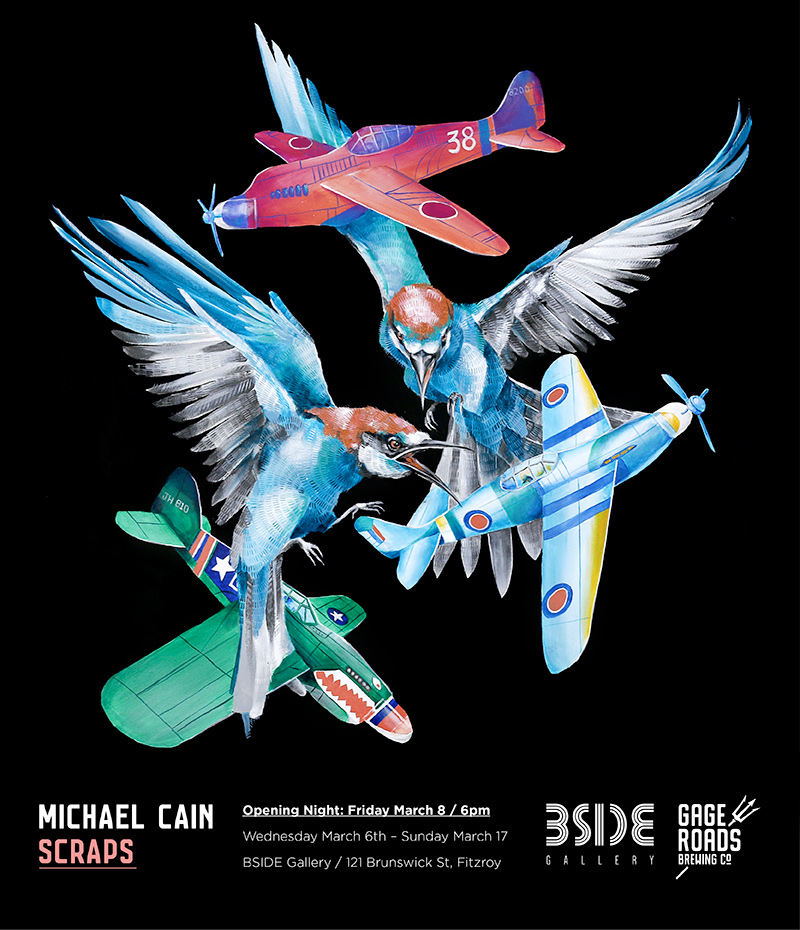 "A trip back to those memorable moments, objects and interactions that ultimately blur, fade, and dissolve as time passes."

Join us for the opening of Michael Cain's solo exhibition 'Scraps' from 6pm on Friday 8th March, proudly supported by Gage Roads Brewing Co!

The exhibition is open for viewing from Wednesday 6th - Sunday 18th March 2019

For all enquiries please contact the Gallery Manager Ariana - info@bsidegallery.com
BANGARANG
[DIRECTOR'S CUT]

JESWRI
BANGARANG is JESWRI's second solo exhibition.
A show exploring all the distractions that a kid from the 90's would use as a too escape a cold, chaotic world.

BANGARANG was a commonly used word throughout the 90's hit movie Hook. 'Bangarang' is a Jamaican word that loosely translates to disturbance. JESWRI is an Australian-Artist who has worked along some names like Young Henrys, Audio Technica, New Japan Pro-Wrestling, Vans and Mattel.

BANGARANG was first held in Sydney, last December - where JESWRI showcased 12 flash sheets of twisted and alternate realities of famous pop-culture references, such as The Simpons, Toy Story, WWE and various cartoons that everyone grew up with.

BSIDE Gallery in Melbourne has the joy of experiencing the 'DIRECTORS CUT' with additional (never-seen-before) artworks that were created exclusively for this event. One night only.

*Catalogue released 21/3

Proudly Supported by:
Young Henrys & BSIDE Gallery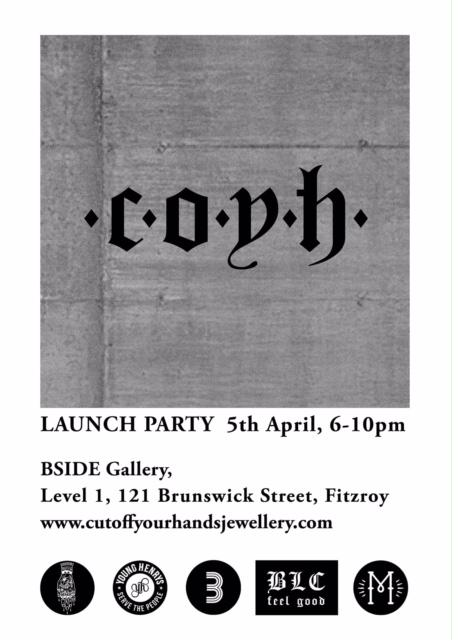 CUT OFF YOUR HANDS JEWELLERY LAUNCH PARTY
Hard lines, fractured oxidised recesses and bold lines. The time has finally come to unleash my brutaLUST designs into the world. Come celebrate the launch of Cut Off Your Hands Jewellery with a few beers from the legends at Young Henrys at BSIDE Gallery.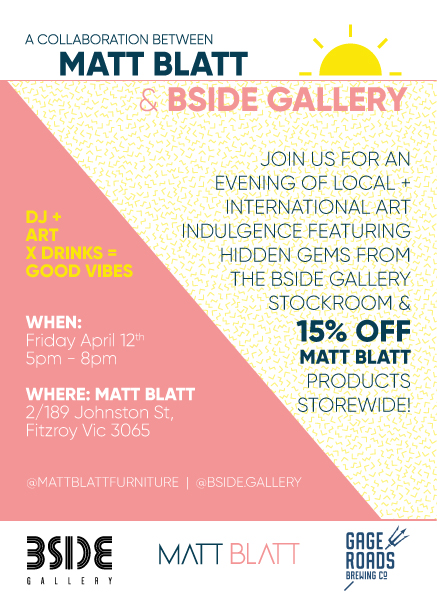 BSIDE GALLERY
X
MATT BLATT FURNITURE
Join us for an evening of art, furniture and design as BSIDE Gallery takes over the walls of Matt Blatt Furniture for one night only this Friday 12th April!

Featuring selected works from the BSIDE Gallery stockroom by both local and internationally-acclaimed artists Said Dokins, Will Coles, Gus Eagleton, Indie184, Tuyuloveme, Jack Fran, Michael Cain, Caper, Silk Roy, James Wilson, Steve Hamilton and many more.

The exhibition will be open from 5-8pm, with beverages provided by Gage Roads Brewing Co and 15% off all Matt Blatt products store wide!

For more details or to enquire about available artworks please contact the Gallery Manager Ariana at info@bsidegallery.com
ST. O'DONELL'S
CONCEPT STORE + LAUNCH
The Concept Store is a celebration of St.O'Donnell's contribution to the arts, music and fashion scene in Sydney and now Melbourne by showcasing our past /future collaborators in art, music via a week long pop up shop front.

MELBOURNE
30th April - 5th May
RSVP → https://bit.ly/2CphnnP

Art / Photographic Theme - IDENTITY
EXHIBITION

Luisa Cavalieri
Felix Atkinson
Ben Amando
XXFLOS
Misklectic

PLUS Exclusive St.O'Donnell Merchandise

Presented by Young Henrys & Jameson Irish Whiskey
Helping Hoops Untold is a photography exhibition giving our children a platform to show the world their creativity and how they see the world. Over the past 12 months, we have handed the camera over and got out their way so they can be the storytellers and document what is important to them. 80 works will be on display from Friday May 24 to Sunday May 26 (midday to 7pm all days), following a launch party on Thursday May 23 from 6-9pm.

Thanks to our partners Clifton Hill / North Fitzroy Community Bank Branch (presenting partner), Ringwood Camera House and BSIDE Gallery.
If you haven't come along before, Speak On It is a bimonthly gathering that offers a supportive and safe space for artists to come together to discuss mental health through Hip Hop (rap or singing) and Spoken Word Poetry.

The night aims to bring people together to really connect with their community and to ensure they know they are not alone.

This is a not-for-profit community event that encourages artists to get deep and share what's on their mind and listen to and perform to likeminded people, while helping to break the stigma of mental health.

This intimate event is held in a safe space/gallery, hidden from the general public, and fosters a welcoming environment that supports artists and opens up a conversation about mental health, allowing the sharing of similar experiences of people in the room. Not to mention, we'll be surrounded by amazing local art.

This is an inclusive space, and welcomes and encourages people of all walks of life and ages to attend.

These nights are truly special and unforgettable. Look forward to seeing everyone again!
Peace, Class A xx

PERFORMER LINEUP:
Raven (Crate Cartel)
Lotus 2.0
Motley
Sinks
Tigerbalm Artist
JP
Emkew
VYTAL ONE
Yes/No/Maybe
Lisha Murphy

HOST: Class A

SUPPORT:
We will also have our regular Clinical Psychologist, the legendary Jarrod Eden along on the night. Helpful mental health resources and phone numbers to call for help will be available.

If you or someone you know is thinking about suicide, you can call Lifeline on 13 11 14, Kids Helpline on 1800 551 800, Mensline Australia on 1300 789 978 or the Suicide Call Back Service 1300 659 467.

Speak on it is being held on the lands of the Wurundjeri People and we wish to acknowledge them as Traditional Owners.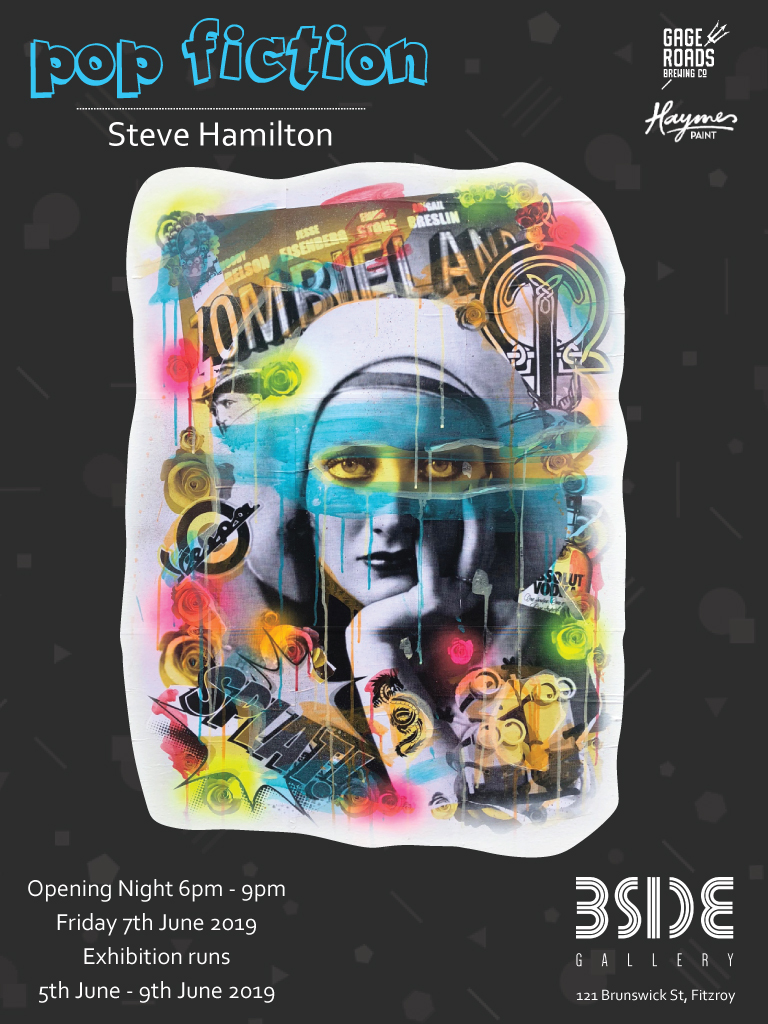 POP FICTION

STEVE HAMILTON
Inspired by references that dance across the generations, Steve Hamilton's latest offering 'Pop Fiction' composes imagery in the medium of pop art, traditional street based pasteup, spray and acrylic paint.

Steve's work aims to bring back those childhood memories and beckons us to escape from the hustle and bustle of everyday life for just a moment.

Join us for the opening of 'Pop Fiction' from 6-9pm Friday 7th June, proudly supported by Gage Roads Brewing Co & Haymes Paint!

The exhibition is open for viewing from Wednesday 5th - Sunday 9th June, for all enquiries please email info@bsidegallery.com
ESS.BEE
'WHAT'S MINE IS YOURS' STORE + LAUNCH
ESS ⬩ BEE is all about feeling comfortable living as the person you want to be. Since December 2017, our brand has sought to walk societies imposed line between masculine and feminine—with each individual customer having the chance to take the piece in the direction that best suits their identity.

To celebrate the fine frootz of our labour ESS.BEE is hosting a launch and pop up store for our first collection titled- "WHATS MINE IS YOURS". This collection will be available for purchase on the night. Music by C.FRIM and drinks provided. Come say HEY!!!

⬩ ⬩ ⬩ ⬩ ⬩ ⬩ ⬩ ⬩ ⬩ ⬩ ⬩ ⬩ ⬩ ⬩ ⬩ ⬩ ⬩ ⬩ ⬩ ⬩ ⬩ ⬩ ⬩ ⬩ ⬩ ⬩ ⬩ ⬩ ⬩ ⬩ ⬩ ⬩ ⬩ ⬩ ⬩ ⬩

ESS ⬩ BEE acknowledges the Wurundjeri people of the Kulin Nation as the rightful custodians of the land in which this launch and pop up is taking place on. We give our respect to their elders, past present and emerging. Sovereignty has never been ceded.

Artwork by @dotheknowledge
THE BLIND EYE
OF THE NEEDLE
MONA QUILTY
Through manipulation of the animal body, Mona Quilty's work explores the ethical propositions inherent in the human-animal relationship, aiming to question the taxidermic process itself as a means of negating animal agency.

When we witness the abject, we are reminded of ourselves.

"Within my work, abjection through taxidermy acts as impetus for our repulsion against both the material truths of the body and the fragility of the conscious mind, with death unifying matter and thought as a single system.

With this, the animal agent is rendered down to a symbolic vessel, presenting human-centric dilemmas that the artwork itself aims to dispute.

This poses a question: How can the art work interrogate the anthropocentric viewpoint when the animal body is used as a vehicle for doing so?

With the premise behind my work as contradictory, the taxidermic animal is here as a tool, revelatory through the question of its own creation.

The object stares back."
--------------------------------------------------------------
Mona Quilty is a second year Sculpture and Spatial Practice student at the VCA. She uses taxidermy and performance as a methodology for her art practice, focusing on the human animal relationship and the moment of encounter.

This body of work attempts to recognise our perceptual limitations while addressing our inability to reconcile the unknown.

Join us for the opening reception of 'The Blind Eye of the Needle' from 6-9pm on Friday 28th June, proudly supported by Haymes Paint & Gage Roads Brewing Co!

The exhibition is open for viewing Wed. 26th - Sun. 30th June 2019, for all enquiries please contact the Gallery Manager via email info@bsidegallery.com